Davis Cup by Rakuten in Bologna: a great week of sport in September
June 21st 2022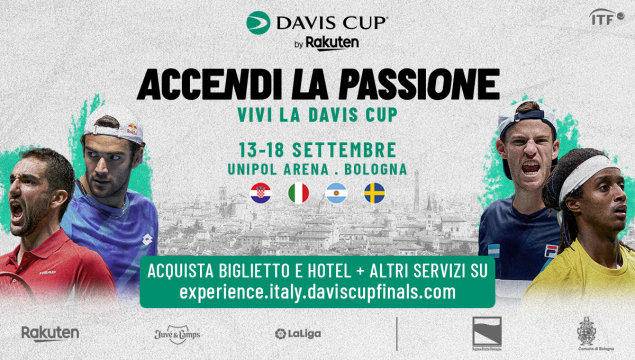 The Davis Cup by Rakuten returns to the city of Bologna after 46 years and does so in grand style, hosting one of the four rounds of the final phase: a new, major international sporting event in the Emilia-Romagna Sport Valley.
The event will take place from September 13 to 18 at the Unipol Arena in Casalecchio di Reno and will feature four teams, Argentina, Croatia, Italy and Sweden, for a week of great sport.
The schedule of the Group A matches will start at 3 p.m. and will be as follows:
Sept. 13: Argentina-Sweden
Sept. 14: Italy-Croatia
Sept. 15: Croatia-Sweden
Sept. 16: Italy-Argentina
Sept. 17: Croatia-Argentina
Sept. 18: Italy-Sweden
Bologna will host the group stages of Davis Cup for the next five years.
Stefano Bonaccini, President of the Emilia-Romagna Region, highlighted how Emilia Romangna is "more than ever a central field of great sport, thanks to a truly unique calendar of international and national events that now runs throughout the year."
Mattia Santori, Councilor Delegate for Tourism and Major Sporting Events of the City of Bologna, declared:
"We have months of work ahead of us, and we look forward to confirming Bologna's credibility as the capital of Emilia-Romagna's Sport Valley. The city is ready, tennis lovers as well, and we as an administration will live up to the expectations."
Tickets sales to the public are active through Bologna Welcome channels. Corporate hospitality and individual tourist packages are available, allowing people to combine their passion for tennis with the enjoyment of the tourist attractions of the city of Bologna. Discover all packages here.