Home

/ Bologna Welcomes Events: discover the incentives for your event in Bologna
Bologna Welcomes Events: discover the incentives for your event in Bologna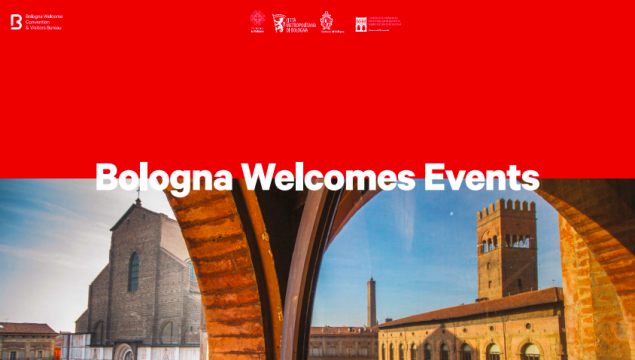 The Municipality of Bologna has created a fund dedicated to the congress sector: Bologna Welcomes Events
It is an incentive plan, Bologna Welcomes Events, aimed at stimulating the organization of major events in the metropolitan city of Bologna, involving highly qualified local suppliers.
The fund is € 500,000 per year, to support new requests for live events with registered participants known to the organizer and which bring added value to Bologna as knowledge, innovation and business destination.

What services does the Bologna Convention Bureau offer
Bologna Convention Bureau operates with the full support of the Municipality of Bologna and offers free of charge:
Bologna Welcomes Events – Discover the incentives for your event in Bologna
Who is it for?
• PCOs and event organization agencies
• Associations and companies
that will choose Bologna as destination for the next edition of their event
What kind of events?
• Congresses
• Conferences
• Meetings
• Corporate / Association / Business meetings
Requirements
• Valid for new requests for future events,years 2023-25
• Events involving a minimum of 2 consecutive overnight stays in the metropolitan area of Bologna
• Overnight stays must be managed by BW Incoming Travel Agency
How it works?
For international events there is a voucher of € 10 per participant for events from 400 to 999 participants. The value of the voucher rises to € 15 per participant, if the event involves between 1000 and 1999 participants. For events involving more than 2000 participants, the city offers a € 20 voucher per participant.
For national events from 400 to 999 participants, the value of the voucher is € 7, which rises to € 10 for events with up to 1999 participants. For events involving over 2000 people, the voucher has a value of € 14 per participant.
The maximum amount that can be agreed for a single event is € 50,000.
International events: the majority of the participants are from abroad
Contribution vouchers are supplied by the Bologna Convention Bureau, valid for new requests and for the services provided by the associated territorial operators for partial coverage of costs for venues for events, gala dinners or social events, auxiliary services such as catering services, audio-video and staff services, set-up services, transport, organizational secretariat.
The contribution will be allocated at the end of the event, upon presentation of final invoices. The contribution will be disbursed until funds are exhausted, according to the criterion of precedence based on the order of arrival of the requests and after evaluation of the economic impact on the territory.
The grant application must be submitted to the Bologna Convention Bureau through the form attached. The document must be sent on the association / agency / company headed paper to the address bolognawelcome@legalmail.it and for information to the address bcb@bolognawelcome.it together with the identity document of the legal representative.