Palazzo Albergati
25 Meeting Rooms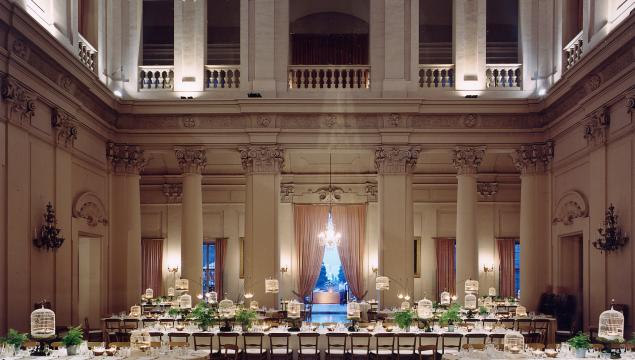 Palazzo Albergati, throughout its long history, has hosted kings, queens, princes, musicians, writers, scientists and adventurers. A piece of history has passed between its walls, making it an untouched location, immersed in a centuries-old park, just a few minutes from the city center, where the gaze is lost between the plains and rolling hills. Frescoes, original furnishings and paintings, everything is still as it was then and is now the setting for the most prestigious events, including corporate meetings, weddings, conventions and fairs.
Palazzo Albergati is spread over four floors for a total of 12,000sqm, surrounded by a 80,000sqm park. The most extraordinary wing, the heart of the building, is the great Salone d'Onore, which runs in height from the main floor to the top for a total of 33 meters. At the end of the Hall, the large dial of the "modern" mechanical clock takes its place.
The halls on the second floor are magnificent, with frescoes depicting mythological and allegorical scenes; so are the uniquely styled cellars that allow you to breathe in historical moments of daily life. On the ground floor there are several lovely rooms decorated with frescoes, paintings and original furniture that allow you to feel the majesty of the venue.
Room capacity
| Meeting room | SQM | HEIGHT IN M | THEATER | U SHAPE | CLASSROOM | BOARDROOM | BANQUET | COCKTAIL | NATURAL DAYLIGHT |
| --- | --- | --- | --- | --- | --- | --- | --- | --- | --- |
| 1° piano (18 sale) | 1.313 | - | 590 | - | - | - | 684 | - | |
| 1° piano - Sala d'Onore | 225 | 33 | 250 | - | - | - | 264 | - | |
| Piano terra (8 sale) | 713 | - | 340 | - | - | - | - | - | |
| Piano terra - Androne / Loggia delle Carrozze | 210 | - | 190 | - | - | - | - | - | |
| 2° piano (8 sale) | - | - | - | - | - | - | 552 | - | |
| Piano interrato (7 sale) | - | - | - | - | - | 282 | - | - | |