Zanhotel Europa
9 Meeting Rooms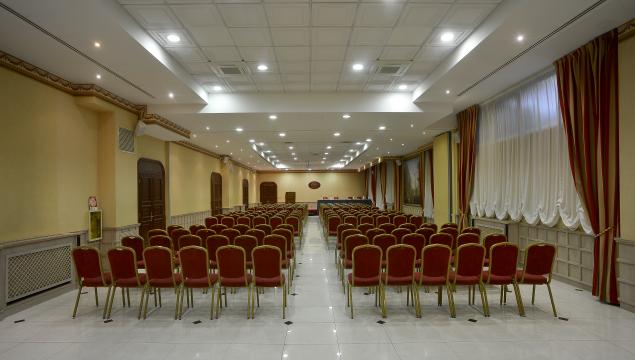 Zanhotel Europa is an important convention center, strategically located in the city center. It has 8 elegantly furnished meeting rooms equipped with the latest technologies and wifi.
The catering offers the high standard of Rossi Sapori catering service Restaurant, with special attention to raw materials at km 0 and DOP, with personalized menus inspired by the renowned Emilian tradition.
You will not be alone: the consolidated Zanhotel experience is at your disposal with an event manager and a team always at your side to achieve your ideas.
Room capacity
| Meeting room | SQM | HEIGHT IN M | THEATER | U SHAPE | CLASSROOM | BOARDROOM | BANQUET | COCKTAIL | NATURAL DAYLIGHT |
| --- | --- | --- | --- | --- | --- | --- | --- | --- | --- |
| Roma | 265 | 3.4 | 300 | 80 | 130 | 80 | 160 | 180 | |
| Londra | 145 | 3.4 | 160 | 40 | 80 | 40 | 100 | 120 | |
| Parigi | 120 | 3.4 | 110 | 36 | 50 | 30 | 80 | 80 | |
| Madrid | 120 | 2.7 | 110 | 30 | 50 | 30 | - | - | |
| Oslo | 37 | 2.7 | 20 | 10 | 8 | 12 | - | - | |
| Vienna | 24 | 2.9 | - | - | - | 10 | - | - | |
| Lisbona | 21 | 2.7 | - | - | - | 8 | - | - | |
| Berlino | 43 | 2.7 | 30 | 18 | 18 | 16 | - | - | |
Contacts
References
Nome: Gianna
Last name: Griffi
Phone number: +39 051 4211348