Unahotels San Vitale Bologna
7 Meeting Rooms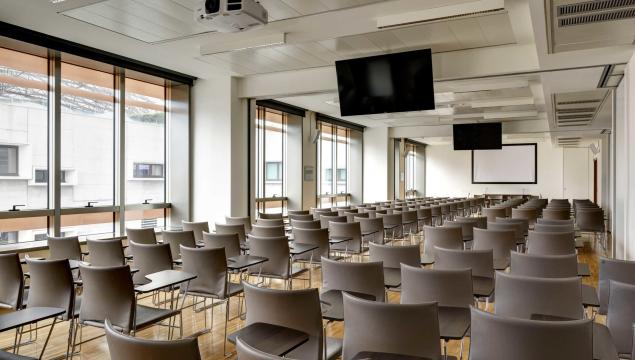 UNAHOTELS San Vitale Bologna is a modern and functional hotel, located within the complex Torre Unipol with several shops and services.
It has a strategic position, next to Via Larga railway station, well connected to the city center, to the Fair and to the airport.
The Hotel has 156 rooms and a elegant restaurant also ideal for banquets for up to 90 people, the hotel has 7 functional meeting rooms, with natural light and a capacity up to 130 participants. UNAHOTELS San Vitale Bologna with a refined design, offers to its guests also an atmospheric lounge bar and a fully equipped gym.
Room capacity
| Meeting room | SQM | HEIGHT IN M | THEATER | U SHAPE | CLASSROOM | BOARDROOM | BANQUET | COCKTAIL | NATURAL DAYLIGHT |
| --- | --- | --- | --- | --- | --- | --- | --- | --- | --- |
| Ascari A+B+C | 148 | 3 | 148 | 50 | 80 | 50 | 80 | 130 | |
| Ascari A+B | 98 | 3 | 70 | 36 | 40 | 40 | 50 | 70 | |
| Nuvolari A+B | 102 | 3 | 70 | 36 | 40 | 40 | 50 | 70 | |
| Fangio A+B | 101 | 3 | 70 | 36 | 40 | 40 | 50 | 70 | |
| Ascari B | 49 | 3 | 35 | 18 | 18 | 18 | 35 | 35 | |
| Ascari C | 49 | 3 | 35 | 18 | 18 | 18 | 35 | 35 | |
| Nuvolari A | 50 | 3 | 35 | 18 | 18 | 20 | 35 | 35 | |
| Nuvolari B | 50 | 3 | 35 | 18 | 18 | 20 | 35 | 35 | |
| Fangio A | 50 | 3 | 35 | 18 | 18 | 20 | 35 | 35 | |
| Fangio B | 50 | 3 | 35 | 18 | 18 | 20 | 35 | 35 | |
Contacts
References
Nome: Loredana
Last name: Saturno
Phone number: +39 051 4594001