Unahotels Bologna Fiera
10 Meeting Rooms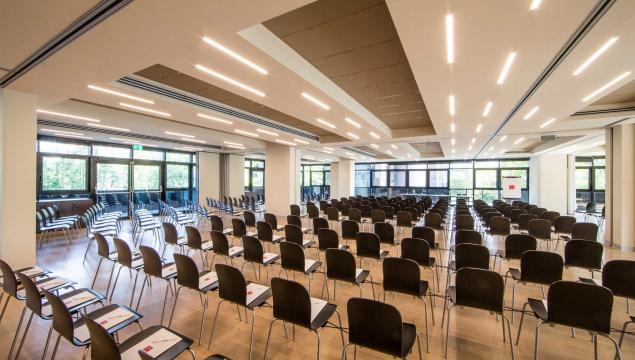 UNAHOTELS Bologna Fiera is a modern and functional Hotel, located in a strategic position, near the exhibition Fair, Palazzo Congressi and only 2 km from the historic center of Bologna. The 211 rooms are modern and equipped with every comfort.
The hotel, ideal for events and conferences, has an elegant restaurant, lounge bar and fitness area with modern equipment.
Functional and charming location for business meetings and events in Bologna, the congress center offers 10 meeting rooms (of which 5 are modular) from 19 to 362 sqm, able to host meetings, conferences and different kind of events, with a capacity (in Major Meeting Room) up to 238 participants.
Room capacity
| Meeting room | SQM | HEIGHT IN M | THEATER | U SHAPE | CLASSROOM | BOARDROOM | BANQUET | COCKTAIL | NATURAL DAYLIGHT |
| --- | --- | --- | --- | --- | --- | --- | --- | --- | --- |
| Maggiore A+B+C+D+E | 362 | 2,75 | 238 | --- | 150 | --- | 220 | 238 | |
| Maggiore B+C+D+E | 310 | 2,75 | 191 | --- | 130 | --- | 210 | 220 | |
| Maggiore A+B | 136 | 2,75 | 95 | 20 | 50 | 20 | 60 | 60 | |
| Maggiore B+C | 178 | 2,75 | 124 | 28 | 60 | 28 | 80 | 80 | |
| Maggiore C+D | 164 | 2,75 | 102 | 50 | 66 | 56 | 80 | 80 | |
| Maggiore D+E | 95 | 2,75 | 67 | 40 | 40 | 45 | 50 | 60 | |
| Maggiore A | 52 | 2,75 | 36 | 20 | 24 | 24 | 30 | 35 | |
| Maggiore B | 81 | 2,75 | 57 | 28 | 33 | 30 | 40 | 50 | |
| Maggiore C | 95 | 2,75 | 67 | 30 | 36 | 30 | 50 | 60 | |
| Maggiore D | 50 | 2,75 | 35 | 18 | 18 | 20 | 25 | 35 | |
| Maggiore E | 45 | 2,75 | 32 | 16 | 18 | 16 | 16 | 25 | |
| NETTUNO | 43 | 3 | 30 | 16 | 18 | 16 | 16 | 25 | |
| ASINELLI | 19 | 3 | 13 | --- | 6 | 10 | - | - | |
| GARISENDA | 20 | 3 | 14 | --- | 6 | 10 | - | - | |
| ARENGO | 23 | 3 | 16 | 12 | 12 | 14 | - | - | |
| SARAGOZZA | 169 | 3.9 | 165 | 40 | 80 | 50 | 80 | 80 | |