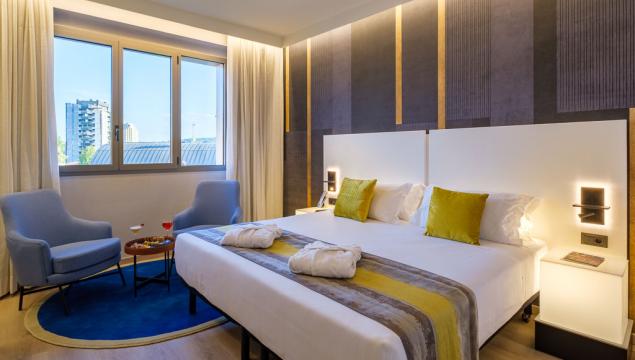 SAVHOTEL, a 4-star hotel with a trendy, ultra-modern style, is located in the heart of Bologna's exhibition center and near the Congress Center. The hotel benefits from a strategic location, since it is easily accessible from the highway and only 12 minutes by car from the G. Marconi Airport and 15 minutes on foot from the Railway Station and the historic city center; for those who prefer to travel by car, a large private indoor garage is available.
Completely renovated in 2021, it is an ideal hotel for both business and leisure customers, and the great attention paid to customer care by our staff place Savhotel at the top of the ratings in Booking.com with a score of 9.0.
The excellent quality of the service includes 120 rooms of different types, meeting rooms with free fiber-optic Wi-Fi at 1000 Mbps, an excellent restaurant and the 600-square-meter outdoor Piazzetta, which is ideal for outdoor events. On the sixth floor lies our rooftop with Jacuzzi, a space that can also be booked exclusively for an additional fee. New additions include the boardroom, a business space for our clients who need to do a few hours of work.
Room capacity
| Meeting room | SQM | HEIGHT IN M | THEATER | U SHAPE | CLASSROOM | BOARDROOM | BANQUET | COCKTAIL | NATURAL DAYLIGHT |
| --- | --- | --- | --- | --- | --- | --- | --- | --- | --- |
| A | 72 | 3,30 | 70 | 25 | 45 | 30 | 40 | 60 | |
| B | 24 | 3,30 | 20 | 10 | 12 | 12 | 20 | 18 | |
| C | 24 | 3,30 | 25 | 10 | 12 | 12 | 20 | 18 | |
| D | 42 | 3,30 | 40 | 23 | 30 | 28 | 30 | 40 | |
| A + B | 96 | 3,30 | 100 | 30 | 60 | 34 | 50 | 70 | |
| A + B + C | 120 | 3,30 | 130 | 42 | 80 | 48 | 70 | 120 | |
| Boardroom | 15 | 3 | - | - | - | 8 | - | - | |
Contacts
References
Nome: Barbara
Last name: Tringali
Phone number: +39 335 5829586