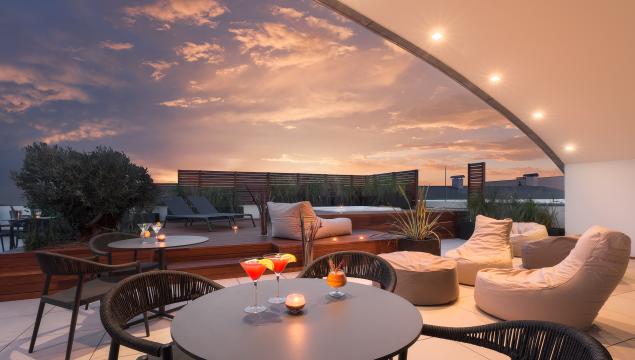 SAVHOTEL, a modern 4-star hotel, general refurbished in January 2021, with a careful restyling of the rooms and a complete renovation of the common areas, hall, restaurant, bar, reception and also with an enhancement of the fiber optic Wi-Fi connection with ultra-fast bandwidth up to 1000 Mbps.
A new Boardroom, a business area offered to our corporate customers, where you can work on the PC for a few hours, or simply meet a colleague, all in complete peace of mind.
A step away from the Bologna Fair and Palazzo dei Congressi, it makes hospitality its strong point with a multilingual, friendly and competent staff.
Near the central station, a few minutes from the airport and easily accessible from the motorway, it is the ideal choice for businessmen and tourists.
Room capacity
| Meeting room | SQM | HEIGHT IN M | THEATER | U SHAPE | CLASSROOM | BOARDROOM | BANQUET | COCKTAIL | NATURAL DAYLIGHT |
| --- | --- | --- | --- | --- | --- | --- | --- | --- | --- |
| A | 72 | 3,30 | 70 | 25 | 45 | 30 | 40 | 60 | |
| B | 24 | 3,30 | 20 | 10 | 12 | 14 | 20 | 18 | |
| C | 24 | 3,30 | 25 | 10 | 12 | 14 | 20 | 18 | |
| D | 42 | 3,30 | 50 | 22 | 30 | 26 | 30 | 40 | |
| A + B | 96 | 3,30 | 100 | 30 | 60 | 34 | 50 | 70 | |
| B + C | 48 | 3,30 | 40 | 24 | 30 | 30 | 30 | 40 | |
| A + B + C | 120 | 3,30 | 130 | 42 | 80 | 48 | 70 | 120 | |
| Board Room | 15 | 3 | - | - | - | 8 | - | - | |
Contacts
References
Nome: Barbara
Last name: Tringali
Phone number: +39 335 5829586