Palazzo Isolani
10 Meeting Rooms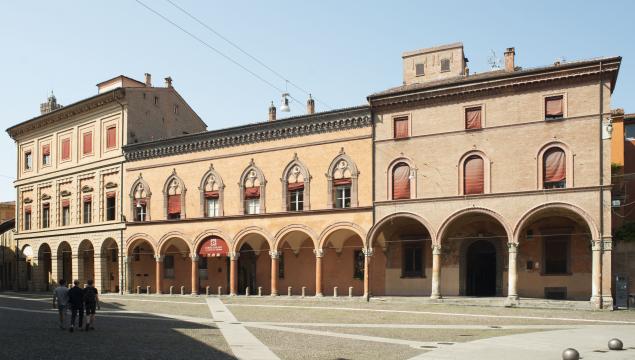 Looking out onto Piazza Santo Stefano (also known as Piazza delle Sette Chiese), Palazzo Isolani's porticoes have opened up to one of the most enchanting views in Bologna for centuries. But the architectural complex of which Palazzo Isolani is the linchpin conserves even greater splendours within.
The eighteenth century rooms on its ground floor, now used for exclusive Isolani Meeting events, are packed with fine frescoes, decorated with damask hangings and furnished with family paintings and furniture.
Its portraits of the Isolani family and the family of the King of Naples Joachim Murat, a family which the Isolanis married into in the early 19th century, give the building an atmosphere of majestic solemnity which is perfect for receptions, weddings, cocktails and gala lunches but also for conferences, business events, seminars, workshops and press conferences.
Room capacity
| Meeting room | SQM | HEIGHT IN M | THEATER | U SHAPE | CLASSROOM | BOARDROOM | BANQUET | COCKTAIL | NATURAL DAYLIGHT |
| --- | --- | --- | --- | --- | --- | --- | --- | --- | --- |
| Senatori | 77,50 | 4,90 | 65/70 | - | - | - | 70 | - | |
| Cardinale | 52,70 | 4,90 | 40 | - | - | - | 50 | - | |
| Alcova | 48 | 4,90 | 30 | - | - | - | 40 | - | |
| Settecento | 73,90 | 4,90 | 95/100 | 30 | - | 25 | 80 | - | |
| Granduca | 43,5 | 4,90 | 35 | - | - | - | 40 | - | |
| Specchi | 52,48 | 4,90 | 40 | - | - | - | 50 | - | |
| Archivio | 59,80 | 4,90 | 50 | - | - | - | 50 | - | |
| Archi | 60 | 4,90 | 15+15 | - | - | - | 40 | - | |
| Galleria | 38 | 4,90 | 25 | - | - | - | 30 | - | |