Palazzo Bevilacqua Ariosti
6 Meeting Rooms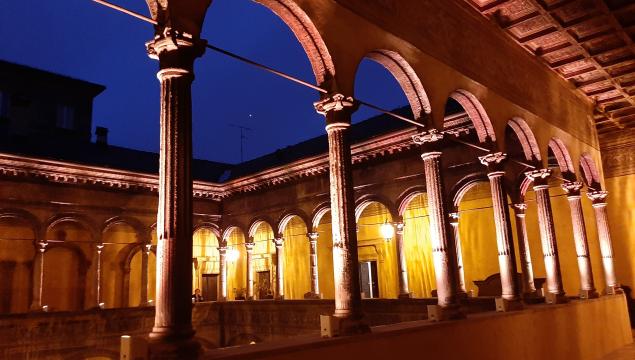 The Palazzo Bevilacqua Ariosti is located in via D'Azeglio and was built between 1477 and 1482. In particular, its importance derives from the decision by Paul III in 1547 to transfer a number of meetings of the Council of Trento.
It is distinguished by its non-Bologna architectonic style, particularly notable in the absence of a portico. A splendid courtyard is located inside. It was subjected to restoration works under Alfonso Rubbiani at the beginning of the 20th century.
Cocktails, gala receptions, exclusive exhibitions and film shoots can be held in the Salons. The venue is not open for visits except a couple of times a year or on special occasions such as Arte Fiera. In 2022 the Saloni Nicolosa were the location for the shooting of 5 episodes of the Sky Arte program Anima e Corpo, which will be aired after May 23 2023.
Room capacity
| Meeting room | SQM | HEIGHT IN M | THEATER | U SHAPE | CLASSROOM | BOARDROOM | BANQUET | COCKTAIL | NATURAL DAYLIGHT |
| --- | --- | --- | --- | --- | --- | --- | --- | --- | --- |
| 5 Saloni Nicolosa | 450 | 10 | - | - | - | - | 150 | 300 | |
| Salone del Concilio | 300 | 12 | 250 | - | - | - | 220 | 300 | |
Contacts
References
Nome: Erika
Last name: Veneziani
Phone number: +39 051260653