FICO Eataly World
6 Meeting Rooms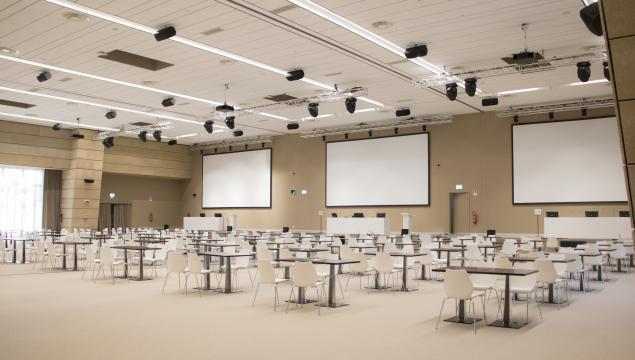 THE CONVENTION CENTER
The modularity of big events
The space lends itself perfectly to the organization of all kinds of events. From B2B to B2C, from meetings to product launches, from conferences to exhibitions, from live shows to conventions. With its auditorium layout the 10,200 square foot plenary hall can accommodate up to 850 people in a completely new setting. Divisible into 3 modules (two of 200 and one of 300 seats) or 2 modules (one of 550 and one f 200 seats), it is equipped with the latest audio-video-lighting technology and removable seats for an infinite number of staging configurations. Organizing an event at FICO is a unique experience for its simplicity and efficiency. Each event is assigned to a project manager who supports the client with all logistic and organizational issues throughout the organization and running of the event.

THE FOYER
A window overlooking orchards, olive groves, and water
Over 10,500 square feet, it's the welcome and registration area. A perfect location for exhibits, exhibitions, sponsor area and dinners.

THE CLASSROOMS
Italian design
Six adaptable and equipped spaces, able to host small meetings as well as cooking classes, tastes and cooking shows. The rooms range from 750 to 2475 square feet, perfect for accommodating up to 70 participants. One of these is set up like real kitchens with Italian design furnishings and chefs' and participants' workstations.




FICO RESTAURANTS & KIOSKS
Choose between 45 restaurants, osteria, bistrot and street food. A wide choice of the Italian cuisine through different regions and traditions.

ACTIVITIES
Fico Eatalyworld is a place that offers unique experiences. Each event can be combined to experiences that will make that event special: the FICO Tour that allows you to discover the park's true identity, our laboratories where you can learn from our masters. And now introducing our new and original teambuilding formats, that can be personalized according to the clients needs.
Room capacity
| Meeting room | SQM | HEIGHT IN M | THEATER | U SHAPE | CLASSROOM | BOARDROOM | BANQUET | COCKTAIL | NATURAL DAYLIGHT |
| --- | --- | --- | --- | --- | --- | --- | --- | --- | --- |
| Foyer | 1063 mq | 4 mt | - | - | - | - | 500 | 500 | |
| Sala A+B+C | 958,42 | 6,9 | 850 | - | 430 | - | - | - | |
| Sala A+B (o B+C) | 656,49 | 9,6 | 550 | - | 300 | - | - | - | |
| Sala A (o sala C) | 301,93 | 6,9 | 200 | - | 120 | - | - | - | |
| Sala B | 354,56 | 6,9 | 300 | - | 160 | - | - | - | |
| Aula Scirocco | 88 | 5 | 45 | 30 | 36 | 25 | - | - | |
| Aula Bora | 96 | 5 | 65 | 35 | 40 | 30 | - | - | |