La Tavola della Signoria
Tavola della Signoria has twenty years of experience in organizing institutional and corporate, public and private events. From banquets in grand palaces to the most prestigious corporate dinners, the passion and expertise are unchanged, the service always impeccable. We bring big events to life, but we know the importance of small details.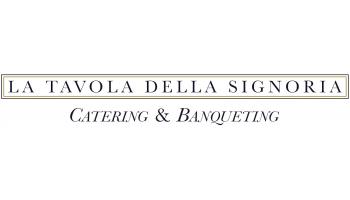 La Tavola della Signoria is a catering company which has been set up in 2000 to offer a premium exquisitely refined service.
Years of experience on the field, in fact, brought us to the most luxurious private homes, the best congress centres and the most important international trade fairs to serve a great variety of clients.
Its cuisine is particularly versatile: ranging from the regional, national and international classic tradition to the most daring state-of-the-art experimentation.
Its synergism with a rich variety of supplementary services and components
-such as mise-en-place, supports, flower decorations, printing of menus, etc- provides the unique possibility to tailor each event to best suit the client's needs and desires.