Volvo Congress Center
14 Meeting Rooms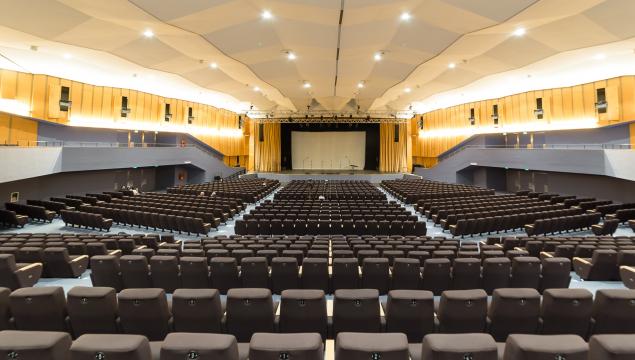 Located in one of the most important fairgrounds in Europe, Volvo Congress Center is the venue managed by Bologna Congressi, a Company of the Bologna Fiere Group. A flexible and contemporary location, able to adapt the offer according to the customer's needs, thanks to its strategic position and offers the possibility of expanding its
spaces u s i n g the spaces within the Exhibition Center. It consists of three structures with modular spaces for a
total of 10,000 square meters: Palazzo dei Congressi 4.500 sqm, Ex-Gam 2.500 sqm and the new Exhibition Hall 3.000 sqm perfect for hosting events of all kinds in a modern and refined atmosphere:ideal for meetings, conventions, congresses, exhibitions, fairs.
Room capacity
| Meeting room | SQM | HEIGHT IN M | THEATER | U SHAPE | CLASSROOM | BOARDROOM | BANQUET | COCKTAIL | NATURAL DAYLIGHT |
| --- | --- | --- | --- | --- | --- | --- | --- | --- | --- |
| Exhibition Hall | 3000 | - | 2000 | - | - | - | 2000 | 2500 | |
| Europauditorium | 1700 | 10 | 1750 | - | - | - | - | - | |
| Primo piano Sala Maggiore | 1500 | - | 800 | - | - | - | - | - | |
| Foyer Europa | 780 | 2,5/6 | - | - | - | - | 600 | 800 | |
| Foyer Italia | 500 | 2,5 | - | - | - | - | - | - | |
| Sala Italia | 500 | 5 | 300 | - | 300 | - | - | - | |
| Sala Bianca | 200 | 2,50 | 150 | - | - | - | - | - | |
| Sala Gialla | 36 | 3 | 20 | - | - | - | - | - | |
| Sala Rossa | 72 | 3 | 50 | - | - | - | - | - | |
| Sala Verde | 108 | 3 | 80 | - | - | - | - | - | |
| Sala Azzurra | 144 | 3 | 120 | - | - | - | - | - | |
| Ufficio A | 33 | 2,80 | 20 | - | - | - | - | - | |
| Ufficio B | 33 | 2,80 | 20 | - | - | - | - | - | |
| Sala Magenta | 468 | 4,60 | 500 | - | - | - | - | - | |
| Sala Celeste | 110 | 4,60 | 80 | - | - | - | - | - | |
| Sala Indaco | 158 | 4,60 | 150 | - | - | - | - | - | |
| Sala Cobalto | 130 | 2,80 | 80 | - | - | - | - | - | |
| Sala Ciano | 200 | 2,80 | 200 | - | - | - | - | - | |