The Sydney Hotel
8 Meeting Rooms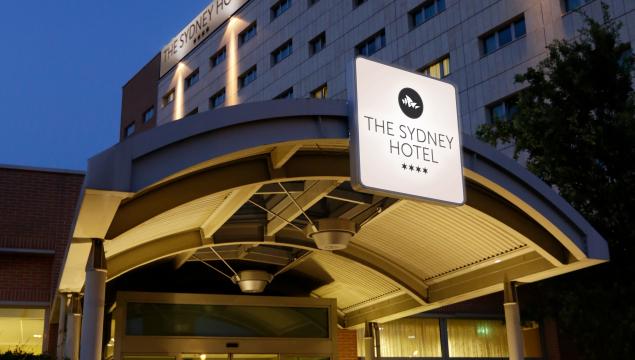 The Sydney Hotel: a modern 4 stars Hotel in contemporary style where class and comfort are well combined.
207 big and bright rooms, 8 meeting rooms with natural daylights, renovated large swimming pool area, 250 free parking spaces.

Last but not least, our new "Opera Restaurant" where you can taste the "works of art" of our chef, also facing the pool.

THE SYDNEY HOTEL was born from the ten-years and well-established experience of the Savoia Hotels & Boutique Hotel Calzavecchio Group with the aim of becoming the new reference point of Hospitality in Bologna!
Room capacity
| Meeting room | SQM | HEIGHT IN M | THEATER | U SHAPE | CLASSROOM | BOARDROOM | BANQUET | COCKTAIL | NATURAL DAYLIGHT |
| --- | --- | --- | --- | --- | --- | --- | --- | --- | --- |
| PERTH (A) | 63 mq | - | 55 | 25 | 27 | 27 | - | 40 | |
| MELBURNE (A) | 63 mq | - | 55 | 25 | 27 | 27 | - | 40 | |
| CANBERRA (C) | 63 mq | - | 55 | 25 | 27 | 27 | - | 40 | |
| BRISBANE (D) | 63 | - | 55 | 25 | 27 | 27 | - | 40 | |
| 2 MODULI (A+B o B+C) | 126 | - | 120 | 45 | 54 | 55 | 50 | 100 | |
| 3 MODULI (A+B+C o B+C+D) | 189 mq | - | 200 | 60 | 80 | 65 | 80 | 150 | |
| SYDNEY (A+B+C+D) | 252 | - | 300 | 80 | 120 | 85 | 120 | 250 | |
| ADELAIDE | 50 mq | - | 35 | 15 | 15 | 20 | - | - | |
| DARWIN | 50 mq | - | 35 | 15 | 15 | 20 | - | - | |
| CAIRNS | 25 mq | - | 15 | 12 | 10 | 12 | - | - | |
| FREMANT | 25 mq | - | 15 | 12 | 10 | 12 | - | - | |
Contacts
References
Nome: Stella
Last name: Monti
Phone number: +39 051 030409